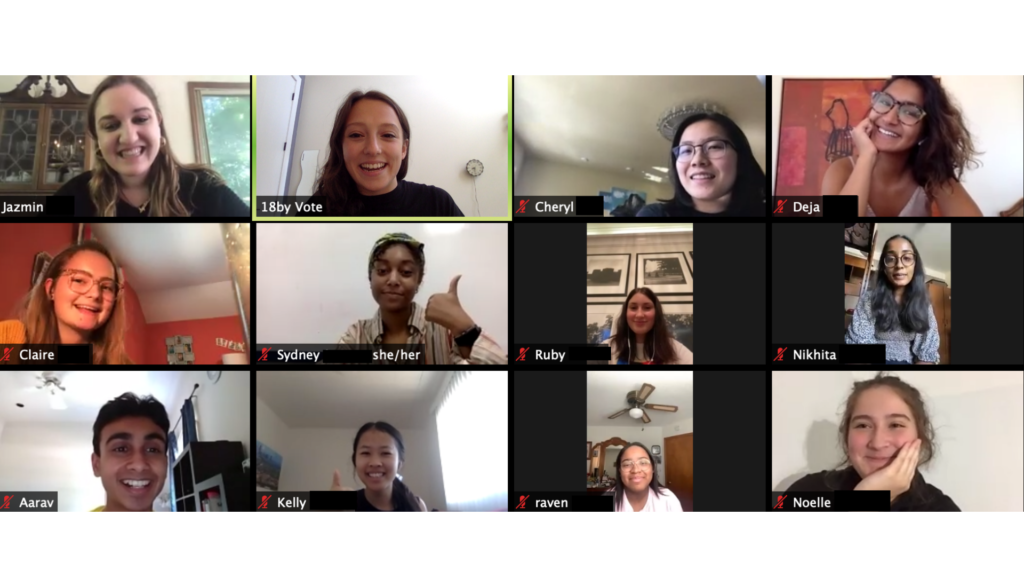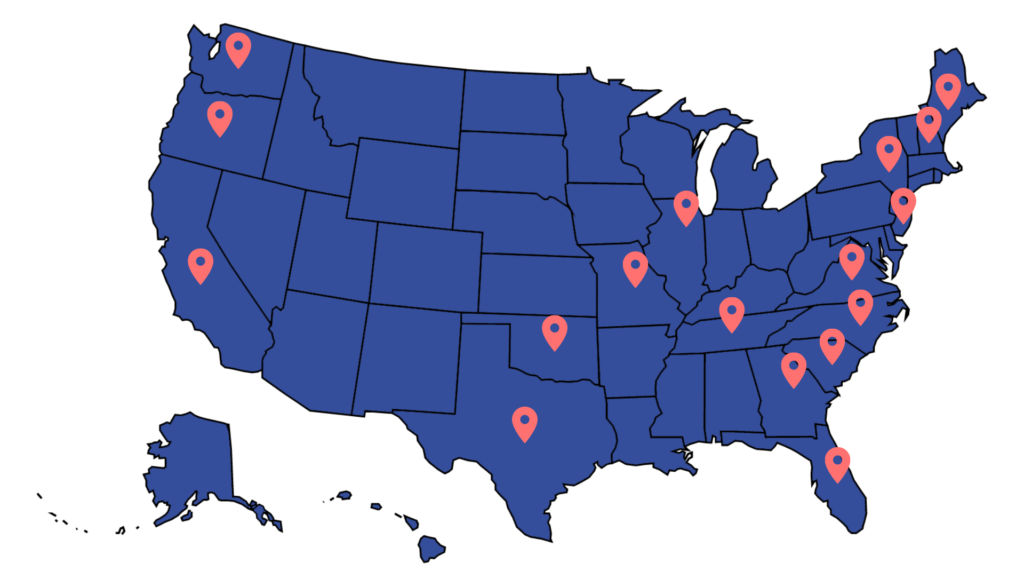 Through our Civic Engagement Fellowship, a national program, we equip youth to spearhead civic engagement efforts within their own communities while also supporting the development of a nationwide peer network.
During our 2020 inaugural fellowship, our 25 fellows successfully connected with over 250,000 people despite a dramatic transition to online communication. In 2021, our fellows focused on empowering their peers through an individual final product that was designed to call their community to action around an issue they cared about.
Previous Fellow Locations
18by Vote Fellows participate in weekly sessions guided by 18by Vote staff members. During these sessions, Fellows discuss civic issues relevant to their demographic, including (but not limited to) "The History and Mechanisms of Voting," "Understanding Local Governments and the Importance of School Boards in Local Decision-Making," and "Fighting Civic Apathy, Building Youth Power."  
In 2023, 18by Vote will build on our Fellowship program to create 18by Vote Hubs. Stay tuned!
Through the 18by Vote Fellowship, I learned that I have power to impact my community, no matter my age or experience.
Raven, 15
2020 Fellow
My favorite part of the 18by Vote fellowship was probably the people. I've rarely been in communities that are this supportive and encouraging, so getting to learn from inspiring leaders and interact with motivated students was amazing.
Khayti, 17
2020 Fellow
My favorite part of the 18by Vote fellowship was probably the feeling of actually doing something about the issues I care about, whether that is spreading information on social media or actually being able to contact voters!
Ruby, 15
2020 Fellow
By far my favorite part of the 18by Vote fellowship has been meeting people from across the country. From California to Georgia to New York, this fellowship has allowed me to have meaningful discussion with changemakers from various backgrounds (ethnic, cultural, geographic).
Tejas, 17
2020 Fellow
My biggest takeaway from the experience is that someone my age can have a genuine and substantial impact on civic engagement in my community.
Eric, 17
2021 Fellow
The 18by Vote fellowship helped me understand that as many problems as we have locally, nationally, or internationally, there are twice as many ways to help.
Phuong, 17
2021 Fellow
After learning so much in the program, I can impart my knowledge to my friends or people that I know that are interested in advocacy.
Palak, 16
2021 Fellow